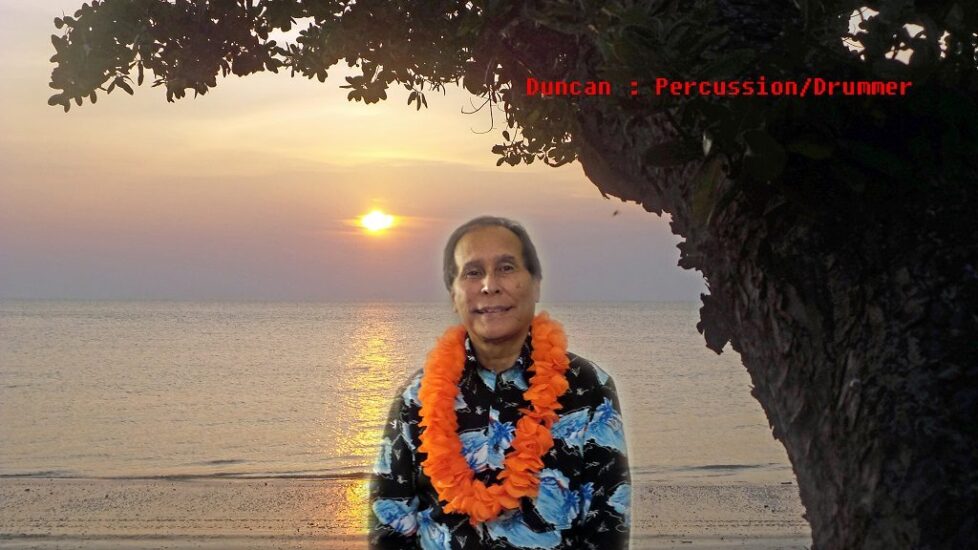 Biografy of Duncan Junker
I was born in former Batavia, now Jakarta in Indonesia.
I have lived in Suriname until I was 20 years and arrived in The Netherlands in 1969.
I played in all kinds of bands in Suriname as drummer. In 1966, played in a "beat group" as drummer / singer.
Here in the Netherlands I also played in different bands.
Now I am active in The "Glenn Weisz Band" and the Torarica band. I was able to guide many national and international artists, but more from the "Funk & Soul" world.
In 2015 I met René Ranti, leader of the band "EverLite for Hawaiians, during his annual party. René asked me if i was interested to play the percussionie in his band. He wanted to play some "danceable".
From that time on, I am a bandmember of the EverLite for Hawaiians.
Play in the band the Cajon or sometime the drums. Occasionally I can sing some songs too.
I love the sound of the Hawaiian music, but it's more fun to play in such a band as the "EverLite For Hawaiians".
It was also a lot of fun to introduce the "Everlite For Hawaiians" to the Surinam audience during the annual Glenn Weisz Band recently in February . And yes………..I had very nice comments about it.
.